Dorvik steel supplies is a well established business that has proudly supplied the Forster Tuncurry and surrounding areas for over 42 years. Our staff is knowledgeable and willing to help, so come in today so we can discuss your projects. Offering the supply of steel in full lengths, sheets or by the meter. Dorvik has a fabrication workshop and whether it is a large or small job, fabrication to your specifications is a breeze.
Our showroom houses a massive range of bolts, fasteners, concreter's tools, lifting equipment, welding consumables & general hardware items. For more information on our range please see our products.
Offering a convenient delivery service with our fleet of utes and trucks, including a crane truck we can get you what you need when you need it. With our vehicles servicing from Tea Garden to Kew and out west to Nowendoc. We can service outside these areas as well, so if you have an enquiry please feel free to give us a call.
Dorvik Tuncurry is also your local agent for BOC gases, Lysaghts and Parchem Concrete finishing products.
Delivery Area
Click the image below for a larger version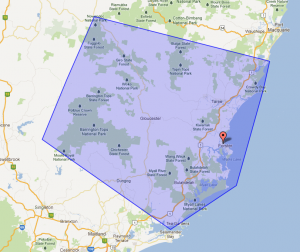 History
Dorvik started in trading in 1976 when Stephen shared the factory space with his father's Building Company at 29 Norfolk close. The factory which remains the location of Dorvik to this day was built by Vic and Stephen and was initially intended to store building equipment for V.H.Moy Constructions. At the time there were no building supplies in the area and the closest was Newcastle. Stephen saw the need for a local supply in the fast growing area and since its small beginnings it grew from strength to strength to where it is today. Stephens son Jason now manages the business and carries on the family beliefs, aiming to provide the best possible service, products and solutions to all your steel needs.